03-30-2011, 01:30 AM
Need 6 pole ignition switch wiring diagram or description
---
I have the following pictured ignition switch and have lost the diagram showing what wires go where. Does someone have a diagram or description they can provide? Would prefer to not have to drop $50 for a whole book for one diagram but will if no one can help. I am rewiring my bike all new and the previous ignition only had 3 wires.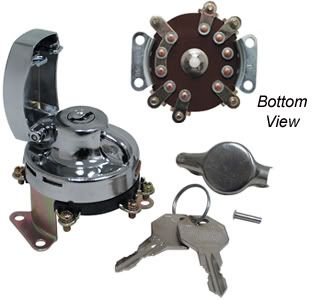 Thanks for your time,

Peace and Long Rides.
02-01-2012, 06:27 PM
hey bro
---
hey bro if u got that diagram could u post it or email it to me i would appreciate it im having the same problem some jack cut my wires
02-02-2012, 07:59 AM
Moderator

2012 HD FLHTK


Join Date: Nov 2007

Location: Cypress, TX

Posts: 10,116
---
here ya go sir.
__________________
2012 FLHTK
Motor
: Street port by Vee-Twin, Andrews 57H, Fullsac DX Pipe, Rinehart 4", TTS, SE Ventilator, Barnett +1, 480 Spring, ClutchWiz
Audio
: Biketronics (4) 7.1", (2) 6.5", (2) 6x9", RF 3sixty.3 DSP, Kenwood KIV-BT901, (2) SoundStream TN4.900D
Lifetime Supporting Member - NRA
"Dear LORD; When I die, please don't let my wife sell all my Harley parts for what I told her I paid for them.".
Tags
cateye, custom, davidson, diagram, harley, ignition, key, motorcycle, pole, post, scematic, schematics, sportster, switch, wiring
| | |
| --- | --- |
| Thread Tools | Search this Thread |
| | |
| | |
| --- | --- |
| Posting Rules | |