Detachable King-Size Windshield for FL Softail® Models Without Auxiliary Lamps

The Lexan® windshield is formed from hard-coated polycarbonate material to resist scratching and abrasion. Polished stainless steel mounting brackets are supported by molded-rubber bushings for improved isolation. It is offered in a standard-height clear Lexan® or three-inch lower than stock, low-profile lightly smoked Lexan® shield. Comes complete with all the hardware required to fit FLSTC, FLSTF and FLSTN models without auxiliary lamps. (Chrome Wind Deflector Kit P/N 58125-90A can be used with this windshield kit on '99-earlier models. Windshield will not fit with auxiliary lamps.) Patented.
58243-95


IN-STORE PURCHASE ONLY
Contact dealer for pricing and availability.
Standard-Height, Clear (Shown)
Fits '86-'99 FLSTC and '90-later FLSTF, '06 FLST and '93-'96 FLSTN models without auxiliary lamps. (Does not fit FLSTS or FLSTSC models.) Windshield dimensions: Overall height 26.3"; height above headlamp 20.5"; width 23.1".
MSRP US $344.95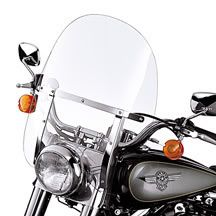 Will sell for $250 shipped. Includes docking hardware. Only 1000kms on it.Great for long trips. Decreases rider fatigue and bugs to the melon. pics available.