Air Filter / external breather question
01-09-2019, 05:57 PM
Air Filter / external breather question
---
I have been doing some searches and trying to determine any performance or reliability benefits of modifying my XL1200N air filter to externally vent the oil breather. The hoses are getting old and I thought it might be a good opportunity to re-route them away from my filter. I think if I cap the ports leading to the filter I could just route some new hose downwards. I have seen from some searches that some route them all the way down the bike, others preferring to use a small catch filter. Any thoughts on a prefered method from someone happy with their modification? thanks for any input.
01-09-2019, 06:04 PM
---
It's definitely a 10K Federal fine in your state. Don't do it. If everyone did it, what a crappy world it would be.

If you must, don't post like you don't care about the environment.
01-09-2019, 06:14 PM
---
My bike had a catch filter when I first bought it used, but it was a little messy for my taste. I ended up putting on a Ness Big Sucker, which isn't too expensive, and it routes the oil mist back into the carb. Less mess and keeps people from scolding you.
01-09-2019, 06:16 PM
---
Be careful, RIPSAW, sarcasm sometimes doesn't come across as intended. I recently found out.
I've been looking at doing an external breather on my 1991 with the old original SE filter. After talking to DK Customs, it looks like there is not really a kit for my early model of SE filter. I could drill holes in the backplate and run hoses, but that was not something I was willing to do to make it work. Some kind of banjo setup would be better, but there is no kit apparently made for what I have. I'd have to drill out the hollow bolts myself and find some way to fit banjos to the spacer. Too much hassle for something that's worked for 28 years.
I was planning on running the breather hose down under the frame, perhaps with a small gauze type filter. I think a catch can would just be a pain in the **** without purpose. I'm not really sure how much oil you should expect, it seems to vary by owner and bike.
The folks at DK Custom were extremely helpful, I suggest you contact them and see what your options are. They have awesome customer service and relations.
John
---
Last edited by John Harper; 01-09-2019 at

06:22 PM

.
The following 2 users liked this post by John Harper:
01-09-2019, 09:39 PM
---
old pic of my Arlen Ness Derby Sucker...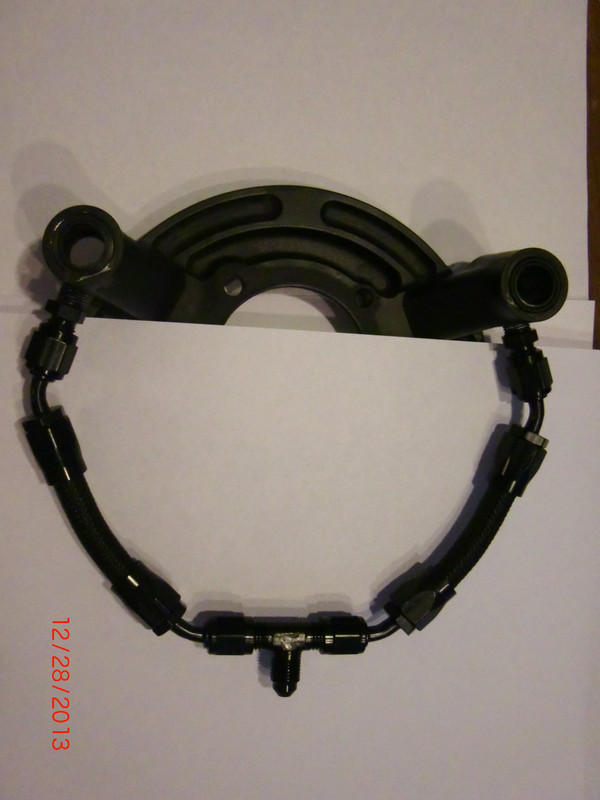 I have now switched to a different intake (velocity stack) for a different look.
T.
The following users liked this post:
01-10-2019, 01:18 AM
Join Date: Dec 2014
Location: USA
Posts: 4,603
---
As John said: "The folks at DK Custom were extremely helpful, I suggest you contact them and see what your options are. They have awesome customer service and relations."
I used a completely discrete breather system made for the Arlen Ness Deep Cut Inverted AC by DK.
I also used double filtered breather bolts when I had a V-stack and an Outlaw 587
DK now carries the Stealth EBS which routes the breather up and between the rocker covers for a cleaner look. Since it routes up, it also minimizes/eliminates the oily mist being released onto the bike or into the atmosphere.
---
Last edited by hscic; 01-10-2019 at

01:41 AM

.
The following 2 users liked this post by hscic:
01-10-2019, 07:08 AM
---
John, my post was not meant as sarcasm and it is true. It is illegal to vent any modern motor vehicle used on the highway.
Especially in CA. My VA state inspection checks for it. (Sure not all)

FP ask for opinions. I just started mine. Is this wrong?
---
Last edited by RIPSAW; 01-10-2019 at

07:34 AM

.
01-10-2019, 07:32 AM
Join Date: Sep 2017
Location: over the mountain
Posts: 910
---
Damn, now the sky is falling. LOL
01-10-2019, 09:22 AM
---
thanks, for all the suggestions. I honestly never even considered the environmental impact. Iíve never heard of such a fine even here in California. Motorcycles once registered are not subject to further inspections. I think we have bigger fish to fry environmentally than some oily mist. You will subject the environment to hundred times more oil by changing an oil filter on a Harley-Davidson in that sideways position, lol. Iíve been around the motorcycling community for quite a while and have never experienced any problems. Personally, I think someone would be a hypocritical DB trying to call out someone riding a modified motorcycle. Again, thanks for the suggestions, now I think I'm going to pull out my old legally registered YZ125 2-stroke and go for a ride today and really burn up some oil
---
Last edited by tunafisher729; 01-10-2019 at

10:08 AM

.