Tank Lift Install (Pics)
06-01-2015, 01:35 AM
Join Date: Nov 2010
Location: Red Banks, Mississippi
Posts: 15,419
---
Originally Posted by
Daytona Fat Boy
Quick question to those who have put the front tank lift only on. Do you still have a useable 6 gallons of gas in your tank? A friend put the front lift on, claims his gas gauge isn't accurate now. The range goes down very fast with about 40 miles to go (it drops 30 miles in range with about 5 miles of riding).
It depends on what year and model HD has.
I had a 1.5" on my 2011 TG and it was no less accurate with the tank lift than without it. I also was able to put a full 6 gallons in it.
On the 14-up Touring models the gas gauge is actually accurate...amazing, finally...and it is not affected by a 1.5 or 2" tank lifts, can put just as much in with or without the tank lift.
__________________
Kevin
LED Ignition Switch Special for Sportys & Dynas HERE
See Current Ride Report
HERE
DKCustomProducts.com
Call: 662-252-8828
Text: 662-420-4891
Email:
[email protected]
06-01-2015, 08:22 AM
---
I actually got about a 150 mile ride in yesterday. Filled up with gauge a hair over 1/4 tank and got about 4.2 gallons in her. That wasn't forcing, rocking or waiting for the air to escape. I usually pack it in but was trying to get home before I got wet, again....


Rain suits are of little use when you don't put them back on the trike!
06-04-2015, 06:53 PM
Join Date: Nov 2010
Location: Red Banks, Mississippi
Posts: 15,419
---
When Keystone was down for a visit we put one on his Freewheeler.
Here's a pic of his FW next to my TG...both have 1.5" tank lifts with the Deluxe Option-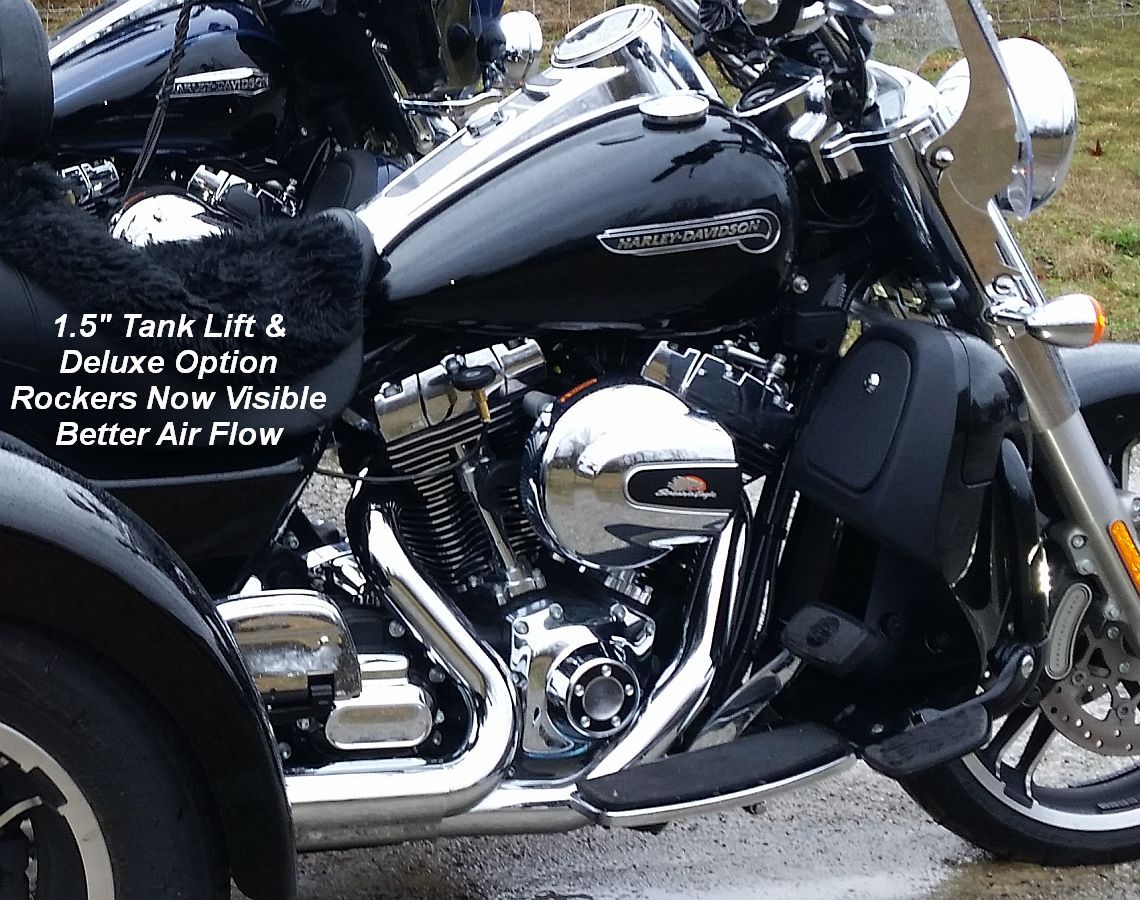 __________________
Kevin
LED Ignition Switch Special for Sportys & Dynas HERE
See Current Ride Report
HERE
DKCustomProducts.com
Call: 662-252-8828
Text: 662-420-4891
Email:
[email protected]
Thread
Thread Starter
Forum
Replies
Last Post