2018 Fatboy 114 Exhaust options
03-20-2018, 10:59 AM
---
Here is a quick video of the Rinehart slip on mufflers on our 2018 H-D Fat Boy today. Wood WM8-222 cam, FM air cleaner, Dynojet Power Vision
__________________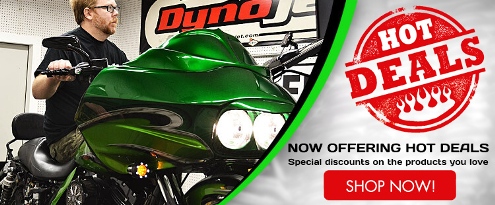 Jamie Long / Fuel Moto USA
The USA's Leader in EFI & Exhaust
www.fuelmotousa.com
Contact 920-423-3309
Email
[email protected]
03-20-2018, 01:14 PM
---
Went to Bike Week last week and found (what I think is) the only company that makes a "2-in-1" for the 2018 Fatboy. While I was there, I went to all of the major vendors (V&H, Rinehart, etc...) and was told they didn't have anything yet for my bike.

While walking through all of the stalls (Destination Daytona), I found a company called D&D Exhaust. They're out of Ft. Worth, TX. They had a 2018 Fatboy with a chrome "2-in-1" on display. I asked if they had it in black and they did! Bought a set on the spot and they installed it there. I also had them install a Thunder Max tuner on my 2018 Fatboy 114.

Here is a pic. Yes...it has a slight up angle on it. It's intentionally designed like that.

The sound at idle and WOT is amazing!

Tim
03-29-2018, 09:34 AM
---
Hey RugbyRef, I believe you about the awesome sound without a clip! I had the D&D Bobcat on my old bike (a 2011 iron 883) and the sound was amazing. Deep low rumble on idle and a satisfying note at high revs without ever being obnoxious. Let me tell you this pipe is really well made and sound will change slightly over time and become a few decibels louder. Enjoy.
The following users liked this post:
06-07-2018, 11:00 PM
---
Originally Posted by
RugbyRef
Went to Bike Week last week and found (what I think is) the only company that makes a "2-in-1" for the 2018 Fatboy. While I was there, I went to all of the major vendors (V&H, Rinehart, etc...) and was told they didn't have anything yet for my bike.

While walking through all of the stalls (Destination Daytona), I found a company called D&D Exhaust. They're out of Ft. Worth, TX. They had a 2018 Fatboy with a chrome "2-in-1" on display. I asked if they had it in black and they did! Bought a set on the spot and they installed it there. I also had them install a Thunder Max tuner on my 2018 Fatboy 114.

Here is a pic. Yes...it has a slight up angle on it. It's intentionally designed like that.

The sound at idle and WOT is amazing!

Tim
looks amazing, exactly what I'm looking for. do you have any sound clips you can share?
06-08-2018, 07:02 AM
---
I've got Vance and Hines Eliminator 300's in satin chrome on my 115th Anniversary Fat Boy with stage one tuning. They have a deep sound with a nice rumble when I back off the bike. Before the Eliminators, I had the HD Screaming Eagles to eliminate warranty worries. I hated the Harley exhausts and went to Vance and Hines because of my past positive experience with the companies' products. As a bonus, I've put over a thousand miles on the 300's with no discoloration or burned spots on the finish. Moreover, the Eliminator 300's eliminate the catalyst without having to change the stock head pipe.
---
Last edited by Mac-427; 06-08-2018 at

07:08 AM

.
06-08-2018, 12:47 PM
---
I have the Bassani Road Rage 2 in 1 on my 2018 Fat Boy 114 which has been injected with the Stage 4. Fantastic ride ! Coming from a BMW K 1300R, the stage 4 gives me the power I need when I want it. Sound is perfect for me.

Enjoy the summer !
06-08-2018, 06:43 PM
---
D&D is hard to beat. Vance and Hines is releasing one at the end of the month. On another build I did a 103 pretty heavily modded, the D&D out performed everything we compared it to. I'm thinking about getting one for the Fatboy but waiting to see the Vance and Hines. Some different brand exhaust aren't making any power at all as the M8s a picky motor when it comes to exhaust.