2008 flstsb cross bones crossbones trike
03-29-2012, 09:47 AM
2008 flstsb cross bones crossbones trike
---
Here is my new project. 2008 FLSTSB Cross Bones trike. Heavily inspried by Pup's Cross Bones trike posted here last year.
I first built the "Can You Dig it" 70's styled 69 shovel trike previously posted on this forum.
Unfortunately, that trike was totalled in an accident.
I always ride with my dog and she got a little banged up as a result of the crash so I wanted to build something that offered her a little more protection.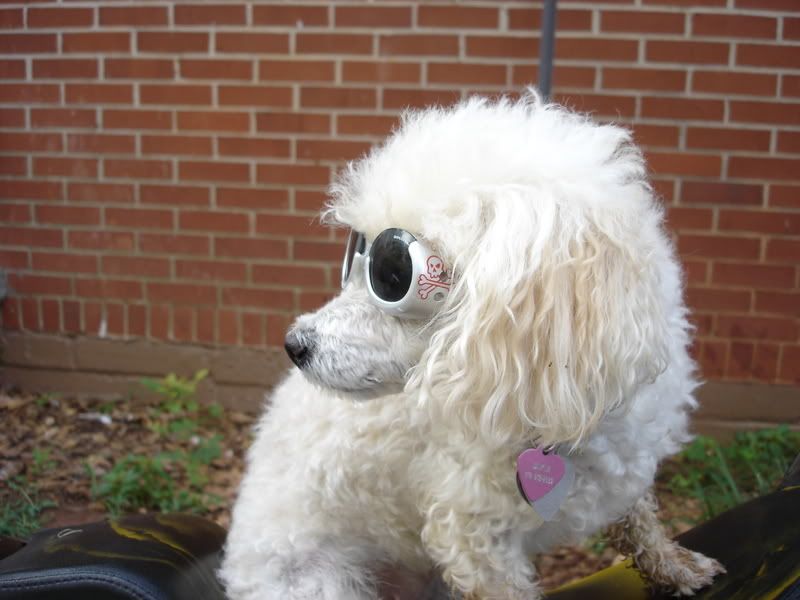 I'll eventually be building a cage/box/bed for the rear that will offer her crash and rollover proctection in case of another accident. (Picture of Pups trike used for photochop)
My goal was to build a retro/vIntage looking trike remniscent of a customized servicar from back in the day.
Here it is so far.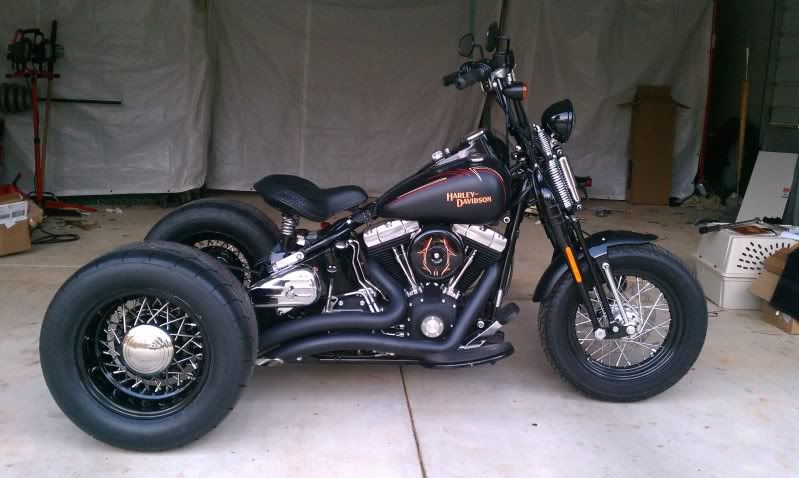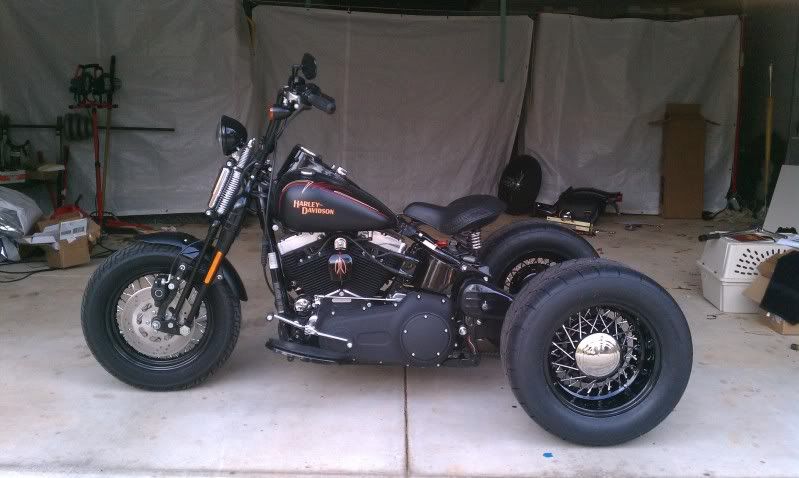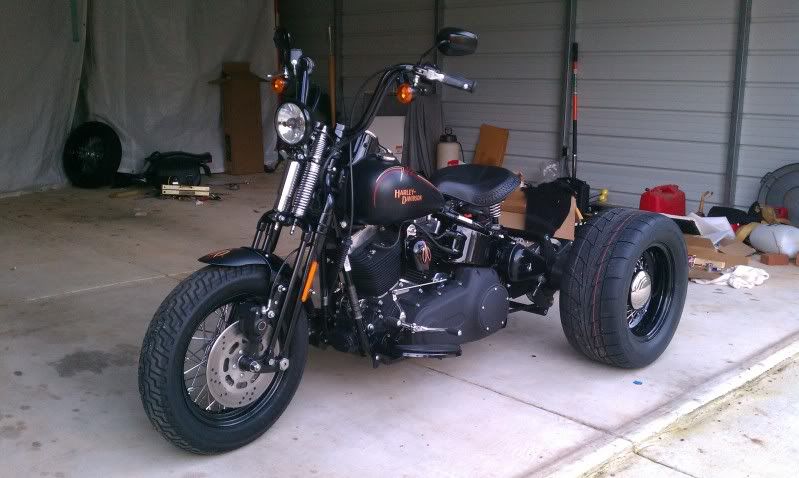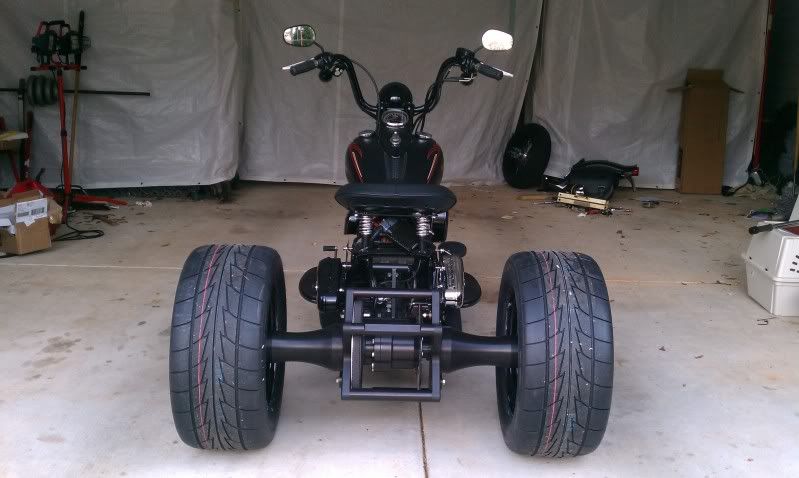 Close up of Champion 2009 & up touring reverse to clear pipes: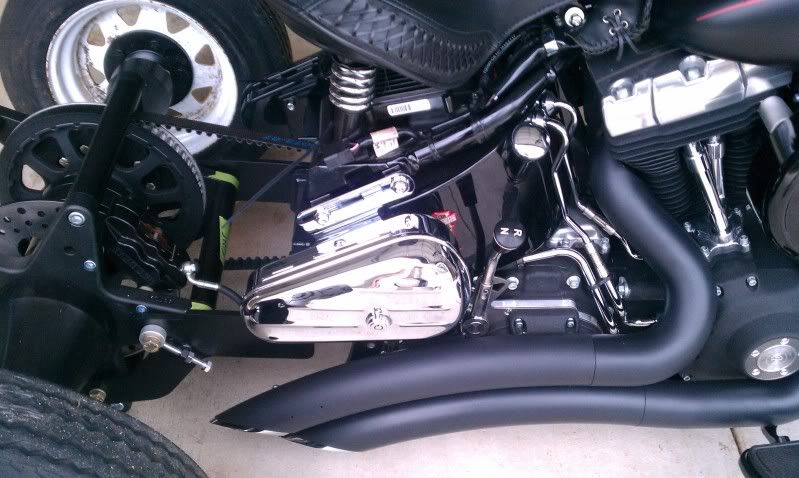 ---
Last edited by Scott Hall; 03-29-2012 at

01:01 PM

.
The Following User Says Thank You to Scott Hall For This Useful Post:
03-29-2012, 04:04 PM
Join Date: Nov 2005
Location: NE Ohio
Posts: 5,926
05-04-2012, 09:52 PM
05-08-2012, 07:39 AM
05-08-2012, 09:23 PM
---
Thanks for all the positive comments! Pup, your trike was the inspiration for my build, down to the wheels. I was at a cafe racer party at Fuller Hot Rods a few weeks ago and Bryan Fuller turned me on to a local fabricator that is going to build me a Model A style metal truck bed for the back for a reasonable price. We are getting started next week. After that's done I'll put a shearling lined leather carrier for Dixie In the truck bed. I'll update with pics as the project progresses. I'm also going to have to get the Vulcan Works raked stem kit as this trike has the typical trike front end oscillation. Probably caused by the heavy wide rear wheels and tires and deraked springer front end. It's not as bad as my previous trikes low speed behavior but is definitely noticeable every time one of the rear wheels hits a bump or rut. I wish I had done more research and gone with a suitable independent rear section as it feels as though the solid axle is causing the oscillations more than anything else. I'll have to see if the raked stem helps and just keep a good grip on the bars at all times.

Scott
05-09-2012, 12:09 AM
05-09-2012, 04:10 PM
05-17-2012, 03:08 PM
Join Date: Sep 2010
Posts: 1
Thanks: 0
Thanked 0 Times in 0 Posts