<2014 Travels of HDForums.com Mascot
06-06-2005, 09:28 PM
RE: Travels of the VTwinTalk.com Mascot
---
Here is an account of harleyrulz ride to meet 12Stones:
Well here we go. I left Boerne Friday around 12:00 and headed for Austin. We road with a couple of my buddies and their wives. It was a nice ride due to the rain clouds (yes we got wet) but it was not to hot. It's only 90 miles to Austin but we managed to turn it into a 3 hour trip. It's a great ride to Austin from here because it's backroads all the way. I got to the ROT Rally on Friday and hung out a while till time to go to all the crazy parties on 6th St.,it's pretty much like Bourbon St. I got up Saturday morning and headed back to the Rally and hung around for a bit and met up with Ricky(12Stones) and passed the flag on to him. It was a great weekend and it was nice to meet Ricky. We didn't get to hang out much because I lost my wife which meens she was off spending money. All in all it was a good trip and a pleasure to carry the Mascot for a while.
Here is a map of the trip:
Me with the cap Ricky with the vest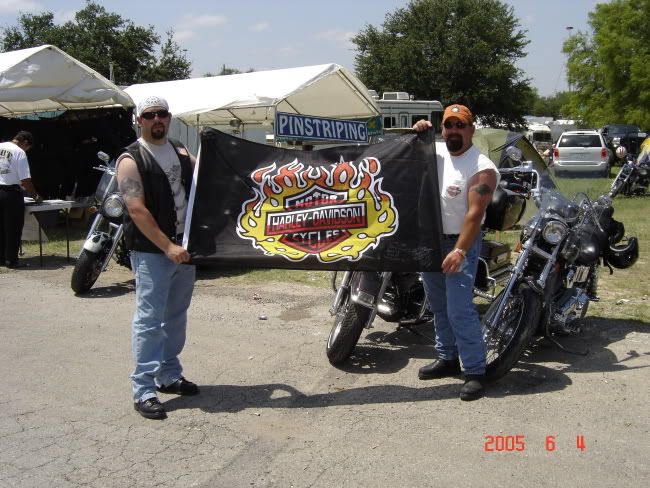 06-10-2005, 09:46 PM
RE: Travels of the VTwinTalk.com Mascot
---
Here is an account of 12Stones ride.
I took off Saturday morning headed west to Austin with some of my bros from the Leathernecks MC and kept straight on the 290 west. It's a pretty good ride with not too much traffic. It gets really good past Brenham when the fields open and the country sites come. The hills are gentle and green and the sun was bright but not too hot yet. We made the trip in about 3 hours with a stop for gas and a couple stops for my buddy, Mark, to burn one here and there. Once we got to the rally we walked around a little before I hooked up with Craig. We met at the Big Dog bike display and took some pics. Didn't get to spend too much time together unfortunately. His wife went missing and I had some commitments with the Leathernecks, but it was good to put a face with a name.
Sunday afternoon after grabbing some grub and doing a last minute shopping trip at the rally, Mark and I left the rest of the Leathernecks to head back east toward home. Once again we took the 290 but the sun was hotter and there were bikes for miles making the trip with us. The ride home seemed longer than the one to the rally; guess there was more anticipation to get to the rally than to get home. All in all the round trip was about 500 miles and I came back with some great times, good stories, a sunburn and the mascot.
Here is a map of 12Stone route:
06-20-2005, 01:44 PM
RE: Travels of the VTwinTalk.com Mascot
---
Here is an account of Bastardmaker's ride:
Well I made the trip to Houston this weekend. I initialy made the trip down there for my best friends graduation. He graduated culinary arts something or another, he is a chef now. I figured since I would be down there why not take part in this thing. I met Ricky(12stones) on Saturday the 18th at Mancuso HD at 290 and 1960 in Houston(awsome dealer) and we made the exchange. the next day I made my way back to Killeen. For the most part I had an enjoyable ride back home. I'm not a fan of big freeways and what not, so once I got off of 290 in Hempstead and started going north on hwy 6 I had a great ride. It's not a real busy road and a beautiful part of TX(Gods country). A little ways after I got through Bryan/College Station, I stopped and took a rest and refueled in Hearne. From there I pulled onto hwy 36 going north until I got to Temple. I then got onto hwy 190 all the way into Killeen. When I got to the house I took a cool shower and a nap. I'm not sure what the milage is but it took 3 and a half hours. I don't know how fast I was going cause I have no speedo. but it was a comfy cruise for me, probly 60-70mph. During this trip I found out my Bike is not for long hauls. So while I was at Mancuso HD I scouted out my nex bike. More than likely I'll get a road king of some sort, or maybe a softail delux. But in the mean time I need a new seat, because this Corbin solo, I think is the most uncomfortable seat in the planet. no padding at all. Well that is all. Who wants it next? I am willing to go as far as the OK, ARK, and LA borders.
Here is a map of Bastardmaker's trip:
Here is a pic of the hand off:
07-31-2005, 01:22 PM
RE: Travels of the VTwinTalk.com Mascot
---
Here is an account of bastardmaker's ride to meet Pococj:
Well I got the mascot to Skip yesterday. I started out leaving the house by around 8am. I got on 190 headed west and then headed north on 116 through Ft Hoods range roads. These are some of my favorite roads to ride on, They are not very strait, flat or congested. The views on some of the riges here are pretty scenic. Once i get to Gatesville I headed east on 84. The route is pretty boring west of Mexia. When I got to Mexia I pulled off the road for some gas and to stretch my legs. It then occured to me that Anna Nichole Smith was originaly from here so I hauled *** out of there pronto(so as to not become any dumber than I already am).
A little ways after Mexia the hills and pines become more abundant. I really enjoyed this part of Texas. A part that I really never make it out to. Like I said the trees and other scenery was very nice. When I got to Palestine I stopped off for some good ol Texas BBQ. I dont recall the name of the place but Ill know it when I see it again. Excellent brisket, sausage and sweet tea. Before i left the place an older gentleman noticed my DOD sticker on the bike and chated for a few minutes about Iraq and what not. He was a retired first sargeant and he did a few tours in Nam. He excused himself and went on his way. When I decided to leave I asked the waitress for my check and she told me that the older man had taken care of it. Pretty cool of him.
In Palestine I headed north on 79. The area just kept getting nicer and nicer the more north and east I went. I went through a few old towns that were pretty cool, Jacksonville, Henderson and Tatum, were all pretty cool. In Henderson I took 43 north for a little while until I got to Marshal. In Marshal I got on 59 And headed on in to Jefferson to meet Skip and his wife.
Before actually meeting Skip, I was a little nervous. I didnt realy know what to expect. Upon meeting him I realized he was pretty damn cool. I wish he lived a little closer, cause I know he would be awsome to ride with. We chit chated for almost two hours before I had to take off back south to Killeen. In those couple of hours I felt that I met two of the coolest most ginuine people in all of Texas.
As you can tell I liked the area up there. When I get back from Iraq next year I plan on purchasing some acreage. So who knows maybe Skip and I will be neighbors in the next year or two. Skip if you and I could find the time Id love to hook up again for a longer stay and ride together. Also your wife mentioned that she wanted to come down and watch the 1st Cav horse team do their thing sometime. If ya'll should come down I have an additional room and bed you could use.
I took the route down but didnt make any stops other than for gas and water. I had a race with the sun to get home. My headlight is out and the dealership wont have one till this week. I won the race Barely. Also once I hit Waco I found some of that Sting-ing rain. I spent about 12 hrs on the bike over I dont know how many miles but I had a blast although my *** took a beating.
Skip has the pic, so Im sure he will post it soon. Also I just want to say that getting this mascot from here to there was pretty cool. It has giving me an oppertunity to meet some cool folks and put some miles on the bike I may not have otherwise. If anyone has an inkling to pick the mascot up I would recommend it.
Here is a map of his route:
Here are the pics:
08-25-2005, 11:20 AM
RE: Travels of HDForums.com Mascot
---
The following is an account of Pococj's ride to meet BigTed:

Big Ted & I made arrangements to hand off the mascot a couple weeks ago. I looked on a map and the only town of any reasonable size about half way between us was Poteau, OK. It's about 200 miles from me, and a bit less than that from Ted. I picked out a time & place to meet, and Ted was agreeable to both.

I left my place in Jefferson, TX about 0815 hours and headed north on US 59 to the next town, Linden (home of Don Henley of Eagles fame). In Linden I caught TX 8 and rode it north, crossing the Red River into Arkansas, where it becomes AR 41. At Foreman, AR (home of Traci Lawrence of country-western music fame) I hung a left and headed west on AR 32 towards Oklahoma. In Oklahoma the road becomes OK 3, and winds through the Ouachita National Forest. Just outside Idabel, OK I turned north on US 259/US 70, going through Broken Bow, OK where the road loses US 70, and continues on as US 259.

The road is climbing now, into the remains of an old mountain range. This area is s'posed to be the highest area between the Alleghenies and the Rockies. Not much if you live in "real" mountains, but it gets high enough that you can feel the temperature drop a bit. I always enjoy traveling through this area, especially in the fall when the leaves change colors.

Just north of Broken Bow I took a little side trip onto US 259A, a loop that runs through Beaver Bend State Park. The road is nice and twisty, and there isn't too much traffic in the middle of the morning as the campers, etc. are already wherever they were going to be for the day. The loop dumps back onto US 259, and I continued north. It is still climbing, and is a good 2 lane blacktop road with little traffic. Just about perfect for a nice morning bike ride, I thought to myself.

At an overlook where I stopped to admire the view, two bikes and a trike pulled in. We talked a bit, and I found out they were from Queen City, TX about 30 miles north of Jefferson. They were in a hurry to get back before the heat of the day. Personally, the ride was too nice to worry about having to go fast to get somewhere. I s'pose that's why I allowed myself nearly 6 hours to go the 200 miles. Who wants to blow by all the mountain scenery?

I crossed the Talimena Byway, a road that runs across the ridge tops from Talihina, OK to Mena, AR. US 259 stops at US 59/US 271, and I answered a couple of questions from a nice lady working a survey for the National Forest people. She wanted to know why I was traveling the road through the Ouachita National Forest, and I cracked a huge grin and said, "Because I want to!" She laughed and put me down as seeing the sights, or something like that.

I turned left onto US 59/271 and continued north through Heavener, OK. Always wondered why it was called Heavener. Guess you could choose to live in Heavener Hell? (Sorry 'bout that - mind tends to wander and get whack riding by myself!)

After Heavener comes Poteau. (And it's pronounced, "Poe-toe", with the accent on the "Poe". Nothing like a buncha Okies mangling a good French name!) I started onto the bypass around the town by mistake, as the way the roads were described on the signs was a little confusing. Got straightened out, and cruised the main drag, looking for the Braum's eatin' joint. Saw the Braum's, and there was an HD underneath a tree near it. At first I thought it might be Big Ted's bike, but as I got closer I saw it was a full dresser, not a Road King. I kept on the drag, as I was early and thought I might as well see the town.

About a mile past Braum's I passed Ted. Easy to pick out his bike as the paint job sorta stands out! I don't think he saw me, but I turned around and started maneuvering through traffic and caught him. I pulled ahead a bit and we turned into a little lot next to Braum's where we could park underneath a tree.

We got off our rides, did the meet & greet thing, and then headed i
08-25-2005, 11:23 AM
RE: Travels of HDForums.com Mascot
---
Here is an account of Big Ted's ride to meet Skip:
Well there isn't much to say as far as stories, as Oklahoma in my area is flat land with nothing interesting to see.
Here is my route to meet Skip.
I took Hwy 75 south to Hwy 51 east. Turns into Muskogee Turnpike all the way to I40 east. I40 east to Hwy59 south. Hwy 59 South to Poteau, Ok. We met at the Braum's and ate lunch. Talk for a while, exchanged stories, checked out each others bikes and then parted ways.
On the way home I take the exact same route, but as soon as I hit I40 and get on Muskogee Turnpike, it starts storming so bad, lightning, thunder, rain, wind, drops about 30 degrees, as it was about 105 degree out on the way there, it was now around 70 degrees. I push through and have to make several stop under some overpass' because it is so bad I can't see. But it never lets up, so I ush on all the way back to Bartlesville. Glad I had my heated grips as they were keeping my hands from pruning up from being soked. It poured and thundered the whole time and never let up. It was very interesting to say the least. It was approx. a 342 mile round trip for me.
Here is a map from Skips in Jefferson, Tx to Big Ted's in Bartlesville, OK.
Here is a pic of Big Ted packing the mascot to head home.
08-29-2005, 01:31 AM
RE: Travels of HDForums.com Mascot
---
Here is an account of n2spds ride:
Well I have the Mascot! It was great meeting Ted and his wife today. I am a pretty good judge of character and in the short time we visited today I can honestly say the Pugh's are good people. I am looking forward to meeting more forum members and plan on passing the Mascot on to Steve in OKC. I am not sure how to do a map so I will just tell you the route we took. We started off in Inola,Ok and headed North on HWY88 to Claremore,Ok We then headed North on HWY66 to HWY 28 West, 28 West to HWY 75 North,75 North to Bartlesville,Ok and met Ted and his wife at QT. We visited for awhile,took some pictures and then headed South on 75 Collinsville,Ok where we got on HWY20 East. We took 20 to 169 north and 169 to HWY 88 back to Inola,Ok If someone wants to print a map they can. As for my friends that rode with me they are starting from the left, Dewayne, His brother John, Mitch, Linda, Ted of course, Brian and Myself. They are true soldiers, I pgave them a days notice and they were ready to go. Thanks for the opportunity to be part of this. We had a great time today and all plan on moving the Mascot to OKC next weekend if Steve is available.
Here is a pic of the hand off:
Here is a map of n2spd route from Inola to meet with Big Ted and back to Inola:
11-11-2005, 08:39 AM
RE: Travels of HDForums.com Mascot
---
Here is an account from Mikester48 of the handoff from Mikester48 to Skos:
The mascot is in the Dallas area. The handoff to skos was made Saturday afternoon in Wichita Falls, Texas. Just to give you all a brief story about the day. I met steveokla at a gas station north of Lawton at 11am Saturday, we rode several miles into the Wichita Mountains wildlife refuge and up to the top of Mount Scott where the handoff was made. It was cold and very windy, it was all we could do to hold on to the mascot for the picture. We ran into several other riders on top who had driven up from Denton for the day, one of them took our picture. They were very interested to hear about the mascot travels, everyone thinks it is a great idea when they hear about it. I was happy to meet Stephen, we have only communicated here on this board and by email, phone. After the transfer Stephen took off to return to Oklahoma City and I headed south on I-44 towards Wichita Falls. I got off the interstate about 5 miles south of Lawton ( I really don't enjoy cruising interstates) went to Wichita Falls on back roads into a pretty strong headwind. I met skos (Steve) at the Olive Garden where the second handoff was made
Overall it was a great day for me, I met two new friends from this forum, got to handoff the mascot and had a great day riding. The only small glitch in the day was the discussion I had regarding my speed with the Texas Highway Patrol officer near Wichita Falls. I swear I was only doing 65, he thinks it was 74. But he only gave me a warning and had good things to say about my bike, so it wasn't all bad. If you get a chance to move the mascot go for it.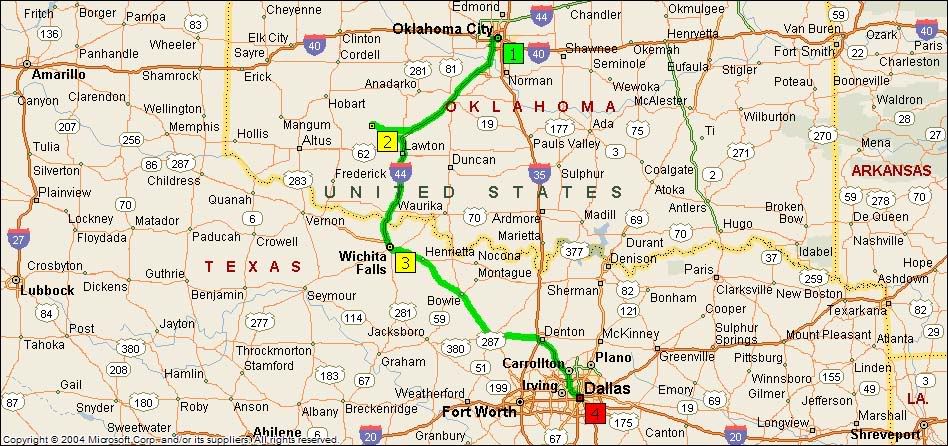 03-13-2006, 09:41 AM
Join Date: Jan 2005
Posts: 7,950
Likes: 0
Received 0 Likes on 0 Posts
RE: Travels of HDForums.com Mascot
---
The following is the account of SKOS's (Steve) ride to meet ameristo (Harvey):
It was a wonderful day, high 70's & sunny for a change. My route left Little Elm, TX. Hwy 380E to 75S. 75S to 635E. 635E to 20E. 20E to Hwy19. 119 miles one way.
Dairy Place in Canton, TX
We both had the famous buffalo burger at "The Dairy Place" and a real nice talk. Harvey you are a real nice guy. He has done some assume mods to his bike and it looks great. When it was time to go we found 2 other Harley riders leaving as well and ask them to snap our picture. We also explained why 2 riders who don't know each other are meeting out in East Texas and taking a picture with a flag. On the way home a put on about 139 mile because I took the back roads. It was a lot nicer not having to run ***** out.
The only bad point about this day was when I got home. I felt a little wind burn on my face. What I did not realize is that riding in the sun & wind all day; I received a real bad case of sunburn. But it was all worth it! Here is a picture of the way home.
Steve (Skos) and Harvey (Ameristo)
The Ride Home
Harvey's (ameristo) tail:
I left Bossier City, LA around 9:00am March 1st, 2006 on a somewhat cool, sunny and windy day. Did I say windy? I mean near hurricane strength! Headed out on Interstate 20 to meet with Skos in Canton, TX I didn't even make it out of town before I had to stop and tighten up my left mirror, that sucker was flappin in the wind like a hound dogs lips. Once done I settled into a nice 80mph cruise and then the wind, did I mention the wind? Good thing they make interstates into four lanes, I used them all. I mean that wind was blowin me around like an empty beer can! Well, I decided I needed a little extra weight so I stopped in Longview at the Whataburger and got a Breakfast sandwich. At least if I was gonna crash I wasn't gonna be hungry. I guess that extra pound of food made the difference because I was able to stay in my lane a little better. I pulled into Canton about 11:40am and as I was peeling off my leathers Skos pulled up. Talk about timing! We did the normal greetings, check out the bike stuff and headed inside for a famous buffalo burger. We shared bike experiences, work experiences etc. etc..... We stepped outside and with our little tummies full of buffalo burger, the weather warmed up so a light jacket was in order. As we were saddling up a couple of the local bikers walked by so we got them to take the picture of the hand off. We then checked out their harleys and gave the story of the mascott and invited them to the forum. Anyways, all finished up here, at about 1:00pm, saddled up, gassed up and said our final goodbye's and headed back home. I decided that the mascot wouldn't care too much for the interstate scene so it was the scenic route home. At least the pace would be a little slower and the trees offered some protection from the wind. So south on 19 to 64 and turned east towards LA. Rode 64 pretty much all the way to Henderson where I stopped by to see my wife, rest the butt, and drink a soda. I turned NE on 43 and headed to Marshall, seems the mascot has been this way before. Back on the interstate at Marshall I headed east to Bossier City. I made it home around 5:00pm 295 miles later and sunburned to a crisp! Somehow when you take off in the morning at 47degrees sunburn just doesn't enter into the mind.
Dairy Queen in Canton, TX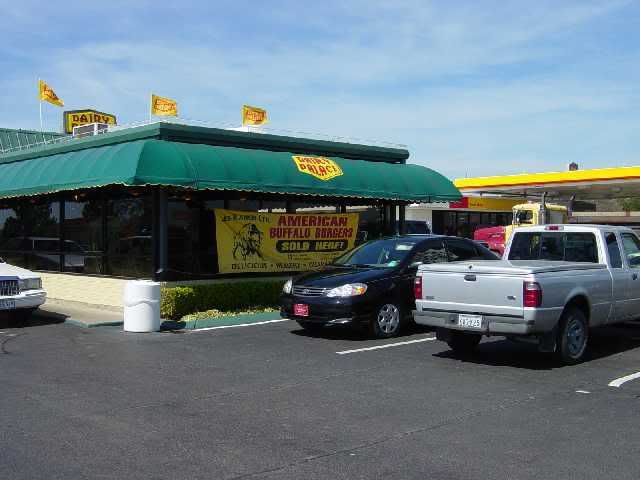 Steve (Skos) and Harvey (amaristo)
Harvey's route with the Mascot