Nightster bar clamp with indicator lights and NO speedo mount...?
09-23-2009, 05:13 PM
Nightster bar clamp with indicator lights and NO speedo mount...?
---
Hey all! Well, I'm looking to do my speedo relocation this next month on my 09' Nightster. Only thing is... I'm looking for a replacement bar clamp that will house the OEM indicator lights at a tilt just like the stock bar clamp (minus the speedo housing).

From what I've read, it seems as though this is a constant issue alot of people have when changing out the sportster's stock set up. I noticed some of you used tape to correct the problem but I personally am not about to double sided tape my indicators to anything.

I've seen a number of photos of the infamous "Fishboy" clamp and it looks great and all... but like I said, I want one with that angled tilt on the indicators and the Fishboy clamp appears to be a flat-mount. Anyone here know where I might be able to score one???

Any help would be appreciated! Thanks for your replies in advance!
09-23-2009, 05:17 PM
---
Hell the only one I've seen is the stock one just saw off the speedo part. It'll leave the silver metal look where you cut it off but then you either paint it to match or have it powdercoated. Its free to do just the cost of the paint/Powdercoat
09-23-2009, 07:26 PM
---
The 3M Heavy Duty Outdoor double sided tape has worked great and stayed put for me. If it's the looks you're not in to you'll have to make something yourself (how bout bending some small "L" brackets to the tilt you want and drilling/tapping/bolting or welding the brackets onto your new clamp, maybe paint to match, then attaching the light assembly to the brackets) but if you're worried about the lights staying in place with the double sided tape, they will.
09-23-2009, 08:42 PM
Join Date: Mar 2009
Location: Indiana
Posts: 3,261
Likes: 0
---
I made some & powdercoated them. Pretty simple.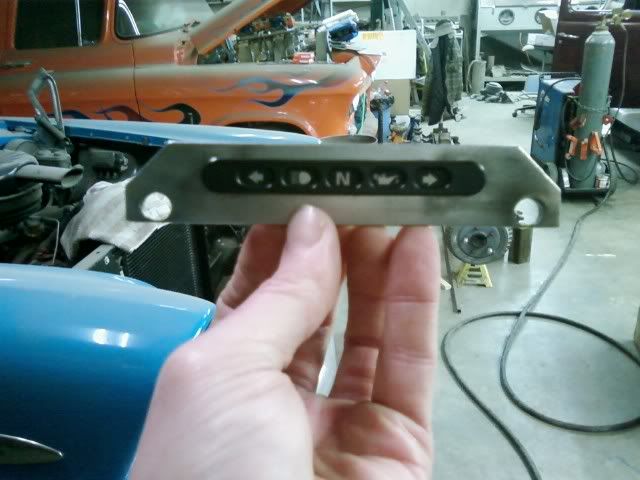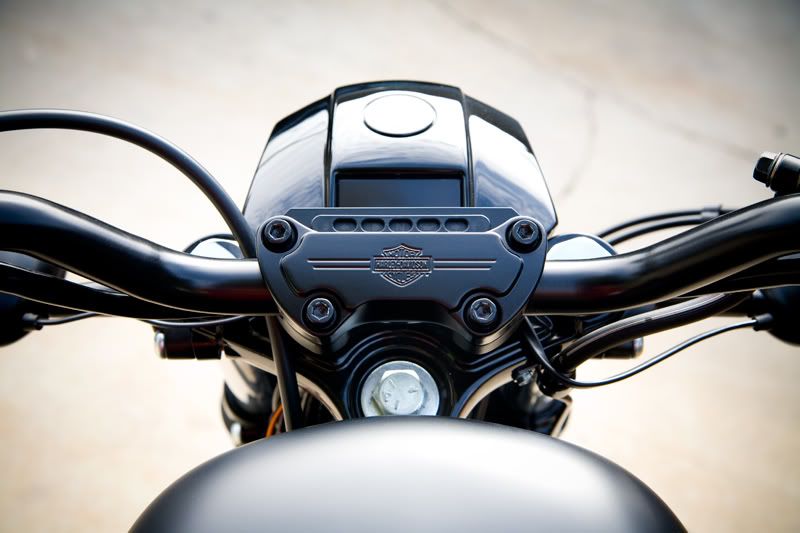 I tried the angle first but it sticks the bottom part of the light bezel out & looks pretty funky hanging out there like that. You can see it very well flat like the one I made & the ones Fisboy sells. Joker Machine also makes a very cool all-in-one deal. You can also pop off the cover in your visor & pop in a light bar from a Dyna. It's already ovaled for it.
If the angle is an absolute must for you try a very short pair of pull back risers. That will angle the whole top clamp the the Fishboy lights will be pointed more at you much like the Anniversary edition top clamps.
I cannot sell them because I'm not a site sponsor but I'd be happy to help you make your own.
---
Last edited by mreed; 09-23-2009 at

08:44 PM

.
09-23-2009, 08:53 PM
Join Date: Mar 2009
Location: Indiana
Posts: 3,261
Likes: 0
---
Also...joebotics on here just cut the speedo ring off & reshaped it. No charge. Just elbow grease & ***** to cut your factory parts. Turned out nice and obviously keeps the stock angle.
09-23-2009, 09:26 PM
---
fishboy clamp is just great, so is mreed's. honestly its really not that huge of a deal that there isnt a tilt on the clamp. but if ur really set on ur ways, upsbrown was jus talking about doing this mod. also someone on here jus cut the top ring off the speedo clamp, so there is still a tilt on it
09-24-2009, 12:47 AM
Join Date: Jul 2009
Location: Lake Elsinore, CA
Posts: 143
Likes: 0
Received 0 Likes on 0 Posts
---