The other H.D. Turn Signal Relocation Bracket
11-03-2011, 01:11 AM
The other H.D. Turn Signal Relocation Bracket only $6 dollars
---
H. D. Meaning Home Depot.......
I am sure everyone remembers buying their first Harley. If you were smart you left enough money in the bank to buy gas and toilet paper with until next payday. I bought my first Harley a 2006 FXDL last week and have been stealing toilet paper from work all week. Tomorrow is payday and it's already spent on tires so no budget yet for some more chrome. I couldn't wait to ride the Harley to work once I got it. I need saddlebags so I had to come up with some McGuyver accessories for my 2006 low rider. Needed to move the rear t/s out of the way and create supports for the bags I had on the virago. I found a bracket at home depot that almost fits the bill but needed a little modification.
The bracket fit right behind the plate holder with a little trimming and bending the bottom to angle like the shape of the bumper. I went out that morning to see if it was going to work and if it did. I was going to paint it to match the black holder and solder and shrink wrap all connections. It took a little longer then planned and I didn't have time to paint it or solder the wires. I wanted to go for a ride. Winter is knocking at the door. The last couple of morning have been a bit cold at 23F but it warms up to 45F by lunch. The ride to work is cold but worth it.
Here's the pictures. Just a temp bracket to do the job until the chrome budget starts building up.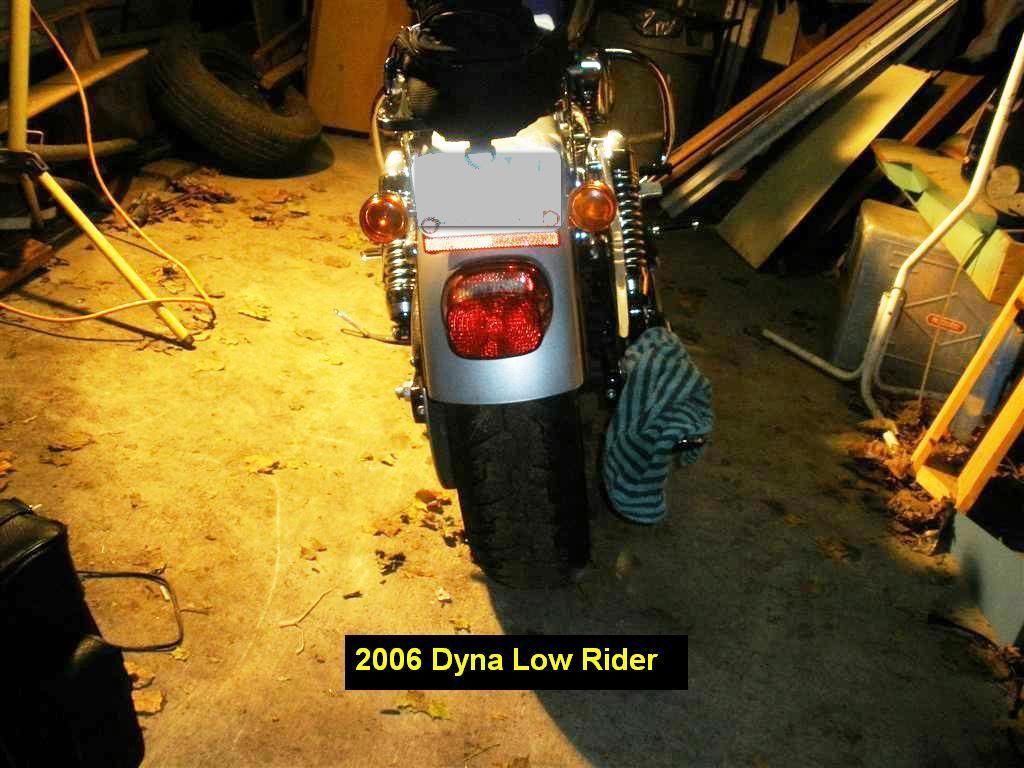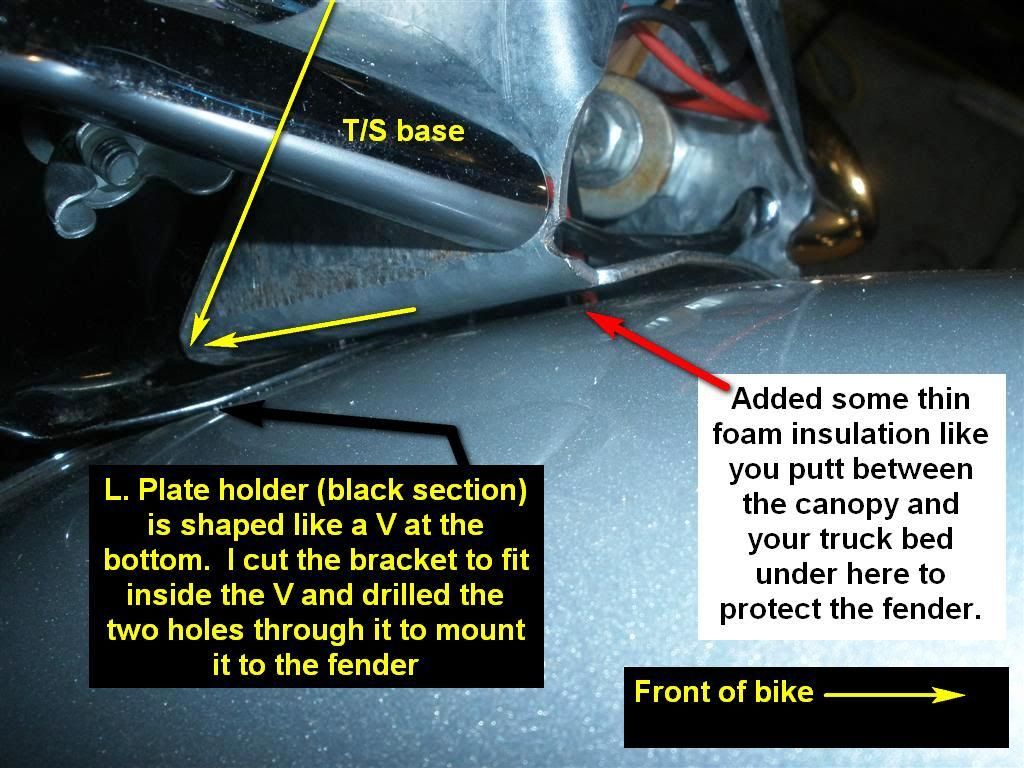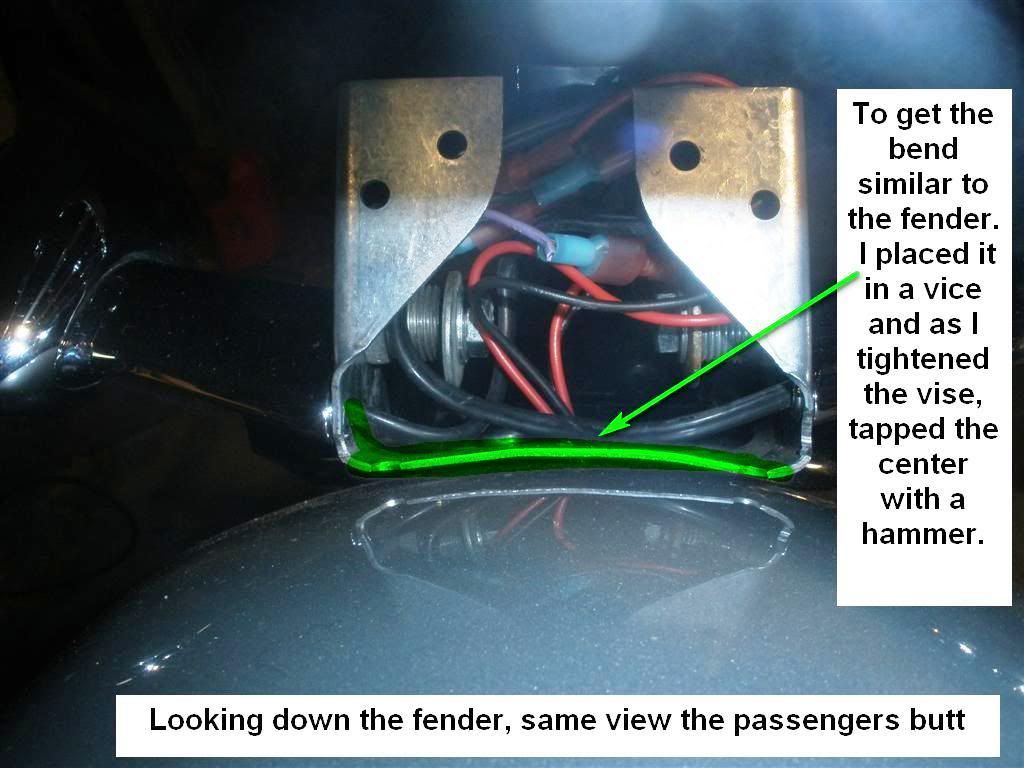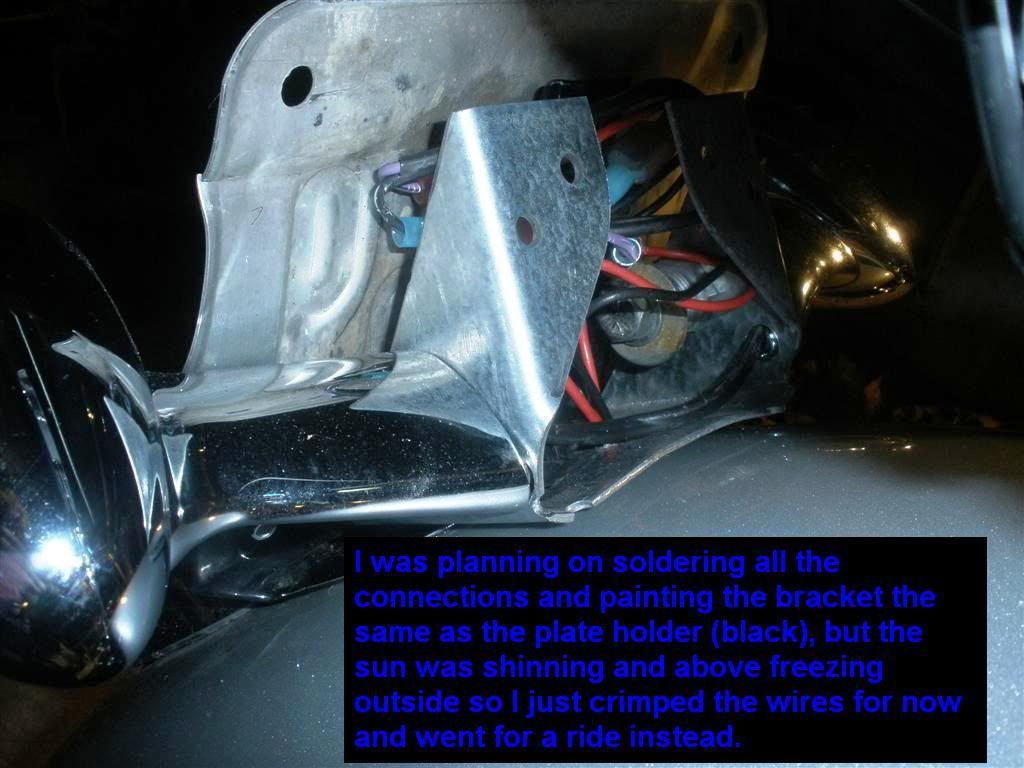 ---
Last edited by Gee; 11-04-2011 at

08:59 PM

.
11-03-2011, 03:53 AM
cheap rear t/s relocation bar has duct tape now
---
Thanks. If it was painted black it would blend in better. It was pretty cheap to make. The 6 dollar bracket was the only thing new that was used. It will get a person by til there is money for a nice chrome one.
I have a used rear light bar in the mail to me next week. The H.D. one has held up fine so far. I did put some black duct tape on it to cover up the wires I had showing.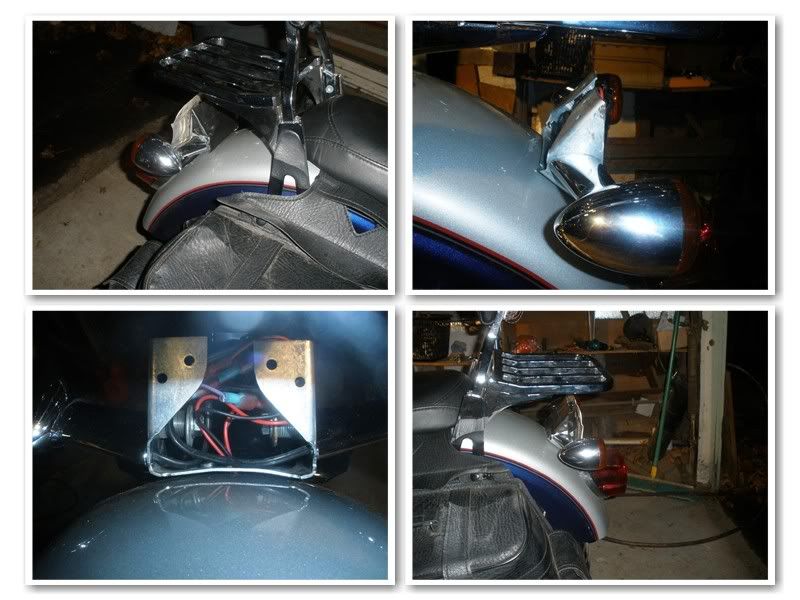 ---
Last edited by Gee; 11-04-2011 at

09:03 PM

.
03-27-2012, 02:14 AM
---
When I first made the bracket I had it in my mind it was just temporary until I got a better one. Well so far I haven't had any issues with it other then the duct tape I had covering the top. I like where the signals are and how close in they sit there. I had to do something about the duct tape though. I got a sheet of aluminum from Home Depot and cut it to shape so it would cover the top and also bend down the sides next to the turn signals. I could of maybe got it to fit a little tighter and closer to the T.S. arms but I would have had to go back to home depot and get another sheet. This one will work for now. Anyways you'll notice it looks better the farther back I stand with the camera.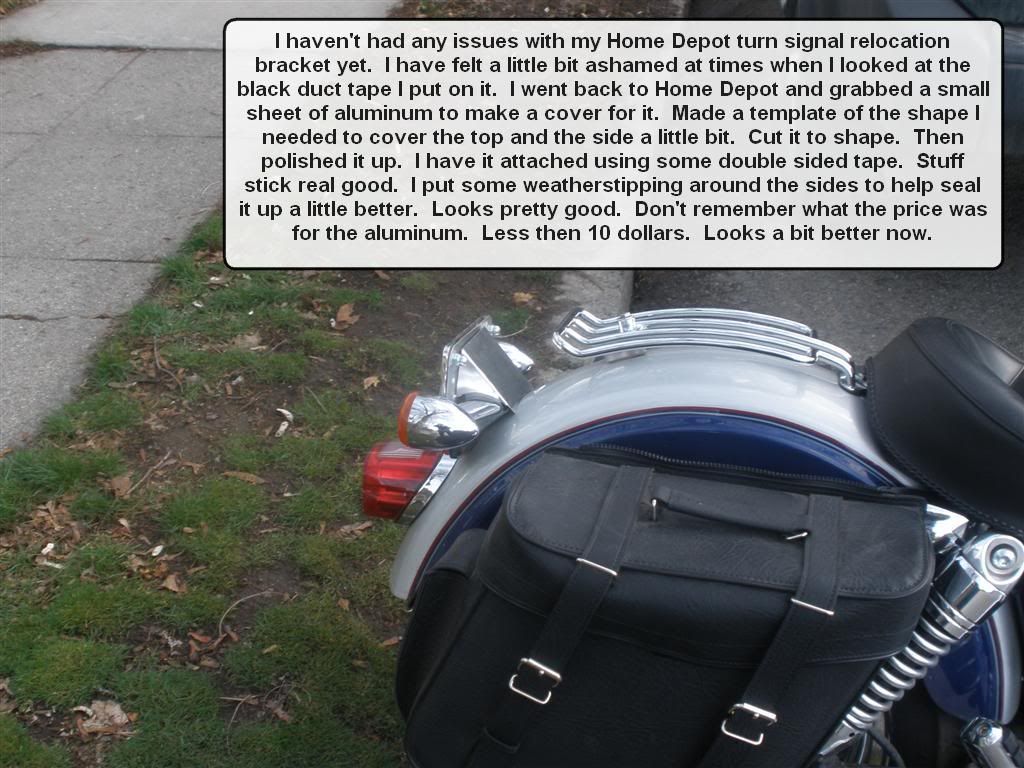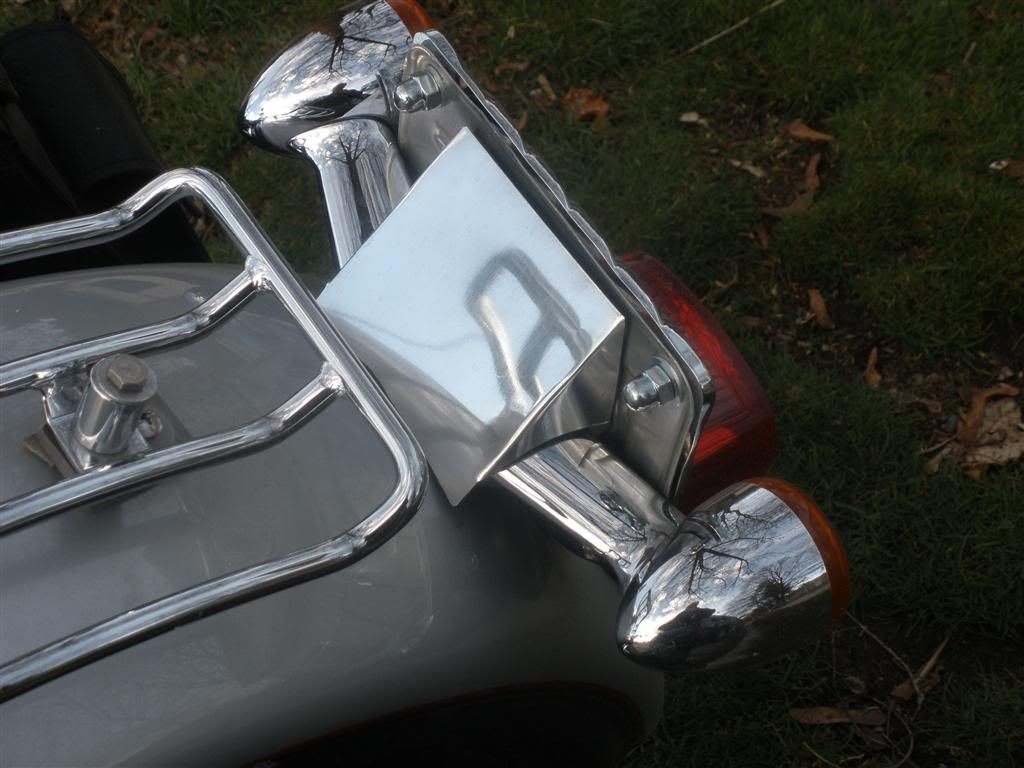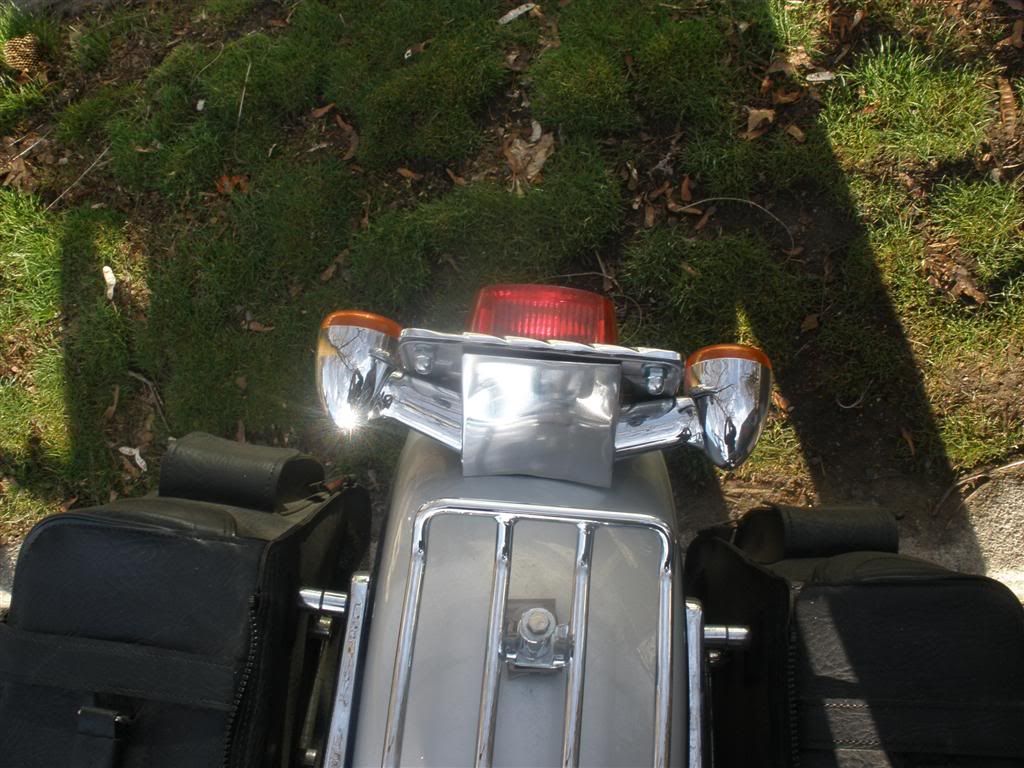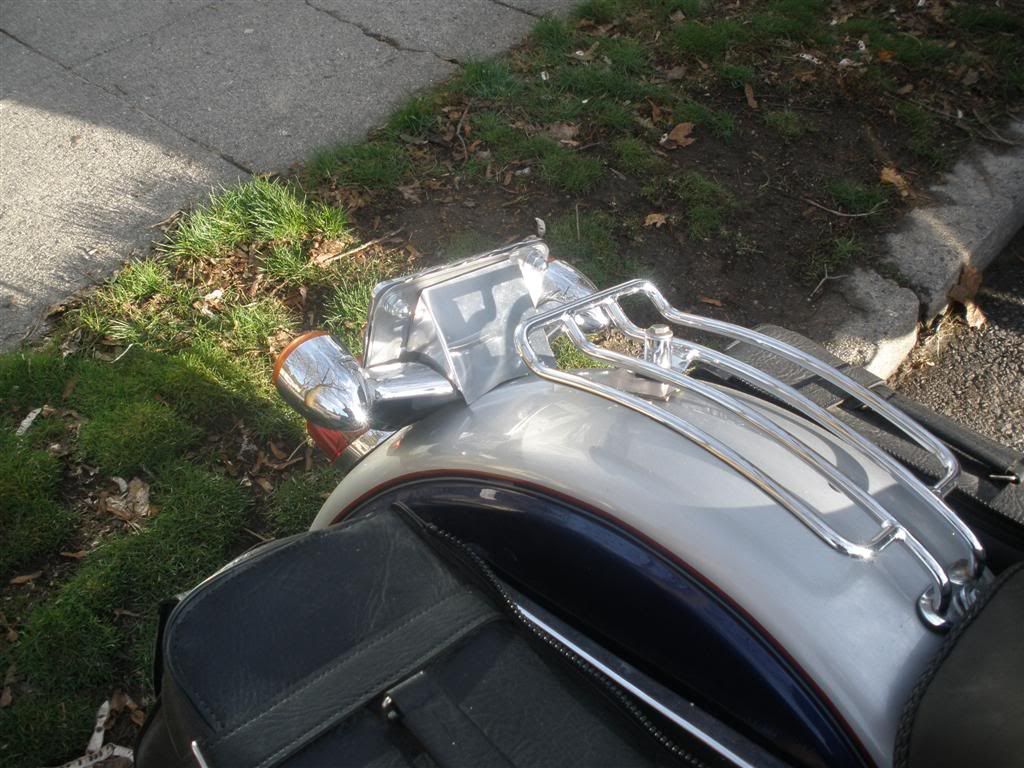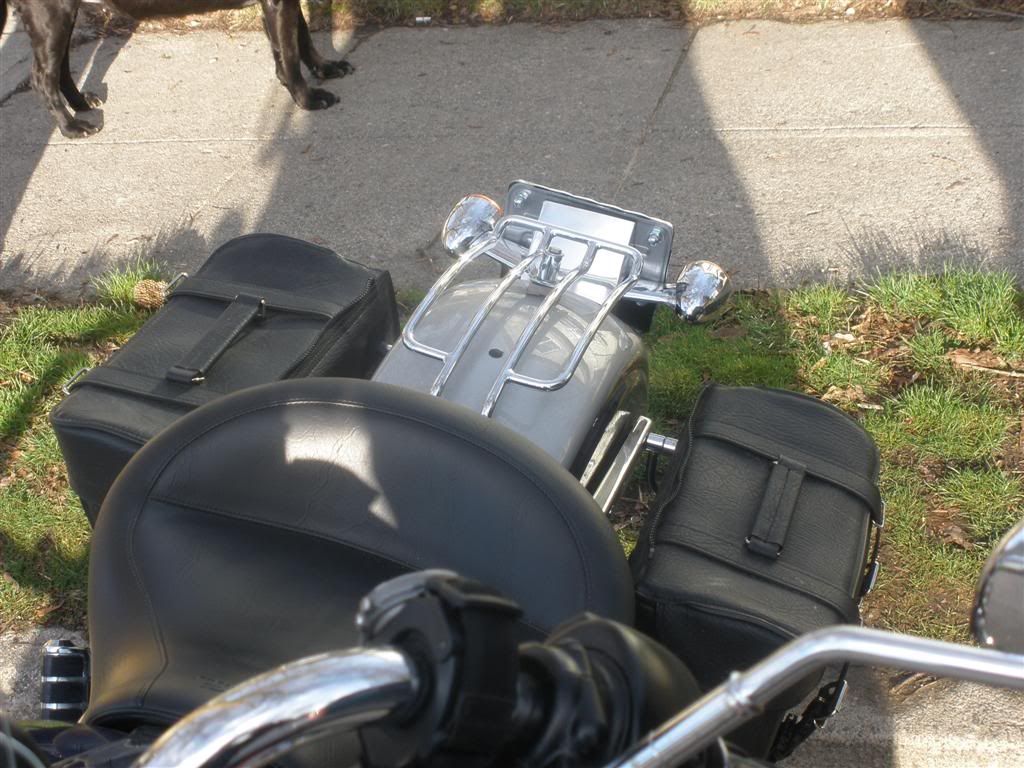 It looks a lot better back there now that I added that piece, got a decent license plate holder, and some chrome end caps for the bolts that hold it on.
03-27-2012, 10:50 AM
---
My mom named me Guy. There's a few thoughts floating around about why. I think it might be the McGuy'ver in me and not because I was the 5th boy and she said. Not another Guy. I like that commercial when the show McGyver buy some duct tape, a single sock, one light bulb, a coat hanger, etc.

I do enjoy adapting things, sometimes they look good but don't work. Sometimes it comes out functional but you would not want to be seen using it. Rarely are they functional and look decent. A rare success for me. Thanks for the comments.
---
Last edited by Gee; 03-27-2012 at

12:18 PM

.