Road King apes and a windshield???
06-12-2011, 08:49 AM
Join Date: Apr 2010
Location: Maryland
Posts: 720
Thanked 0 Times in 0 Posts
Road King apes and a windshield???
---
I have a question for your RK owners with apes. Currently I have beach bars on my 03 RKC and have been seriously thinking about some 14s possibly 16s. The only problem is that I have really whimped out and very rarely ride without the windshield anymore. I did not have one on my last bike and did not know the difference but got one for an iron butt ride. Since it was not a quick detach I left it on all the time. Now I have one on the RK and it is a quick detach buy it never gets taken off. I ran to the store last Saturday 14 miles round trip with the shield off and put it back on as soon as I got back home. I guess my question is for those that have apes do you ride with the shield or just tough it out so you look cool? Pics of RK with apes and the shield would be helpful if you have any.
Thanks
Joe
06-12-2011, 09:06 AM
---
I have 12 1/2"' Chubby's with a 19" long ride windshield which is 2 1/2"s shorter than the factory 21". I wish they were 14's though. As you can see from the pic they look fine behind the windshield.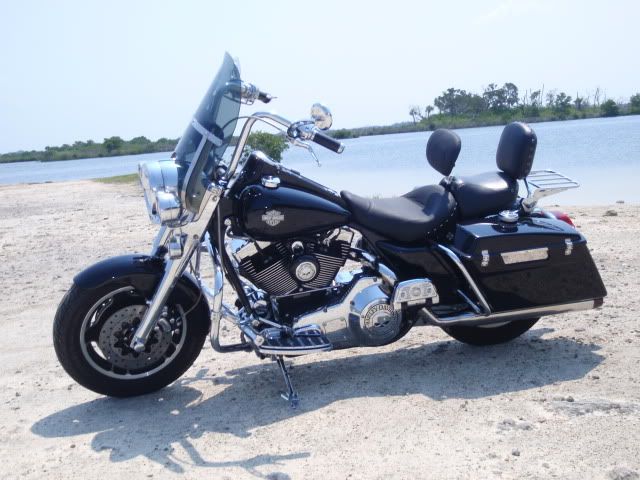 06-12-2011, 09:08 AM
---
unfortunately, I have my bars kicked too far forward to run windshield. At 6'5" I need to have the bars forward when I run the stock seat. When I run my Corbin solo I can pull bars back just far enough to run the windshield. I have been trying to find the right windshield that will fit with bars forward but havent been successful. Id also like to try a detachable fairing but thats a lot of money to spend to find out I have to pull my bars too far back. Maybe a Memphis fairing as its cheaper and I hear the brackets are adjustable. I personally dont like the look of the shield on my King and do enjoy riding around town without it but trips require some sort of wind blockage if I want to do more than 200 miles.
06-12-2011, 12:18 PM
---
I have 16" carlini gangster apes. I do use the windshield on every ride except for just around town. Been nailed in the face by too many bugs here in Arkansas. I have them pushed as far forward as I can with the shield. I had to get a clutch cable clamp attached to the bars to hold the clutch cable down and away from rubbing the shield. (already replaced one clutch cable due to the shield cutting the magnum chromite sheathing. (which isnt the toughest stuff btw). I will try and take a picture of the windshield and the clamp with the clutch cable today to tomorrow.
06-12-2011, 01:43 PM
Join Date: May 2010
Posts: 17
Thanks: 0
Thanked 0 Times in 0 Posts
---
06-12-2011, 03:00 PM
---
Even though i feel more comfortable with the bars a little more forward i'v basically have left my windshield on.Take them off when in the mood.16" apes.
---
Last edited by rick; 06-12-2011 at

03:05 PM

.